Web Design in Fort Lauderdale and Miami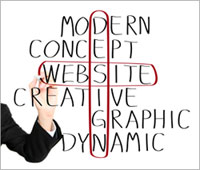 Owning a well-designed website is a must for any business in today's business environment. Before any client ever picks up the phone or walks through your door, it's very likely that he or she will visit your business website first. Therefore, the first impression you make should be a positive one.

As a business owner, you worked hard to get your business brand out to the public. At Digital Pursuit, our creative design team always take your goals and objectives into account. A web presense is not just an interface for your business on the Internet, but it's also a powerful sales tool to enhance your bottom line.

Digital Pursuit is a well-known name since 1990 providing web design services in Miami and Fort Lauderdale for businesses of all sizes and sectors. Over the years, the trends of web design have evolved considerably, and our skilled team of expert designers has kept pace with finest practices for website design for businesses in Miami and Fort Lauderdale. We deliver websites of excellence in quality and design, created to influence and attract your present, as well as your prospective clients.

We are located in South Florida and are serving clients all over the world. Planning to hire a web design team in Miami? Talk to us.
Unique and Innovative
Having a professionally designed website reflects your brand and is essential to compete and get an edge over the competition. Digital Pursuit has completed hundreds of web designing projects for businesses of all kinds, categories, and locations. Our creative team of specialists works with you to achieve your goals to design the perfect website. We have the expertise and the resources to produce the ideal business website on budget and on time.
Functionality Is The Key
Custom Web design is our forte, and we work per our client requirements to develop a website which is high perform high and a website that will yield a great ROI. While imagining the Web design for your business in Miami and Fort Lauderdale, we will guide you with all the latest design and functionality options available to give you a state-of-the-art website you will be proud of.
Highly Experienced Team of Designers
Our creative design team at Digital Pursuit collaborates with you to assure that we understand your needs, objectives, and the target audience. Then, we proceed to conceptualize ideas and work with a strategy that includes everything from the design, its content to search engine optimization, blog, social media and email marketing and all the essential elements that make a great effective website.

We want your website to impress, but more importantly, we want it to become a revenue center for your company.
Why Choose Digital Pursuit for Web Design?
We know there are plenty of web design companies you can choose in Fort Lauderdale and Miami. However, not many companies have our experience since 1990 developing programming and web development. We strive to work hard every day for our clients to deserve your trust.

The Internet is changing and continuously evolving with new trends and search engine algorithms. Our dedicated team of designers and developers at Digital Pursuit are always adjusting our training to keep up with the latest in web technologies. Whether you are looking for your first professionally designed business website or revamping your old and outdated website, you can trust the web design professionals at Digital Pursuit to deliver the best website available.

We know what works great. Digital Pursuit, is an established web design company in Miami and Fort Lauderdale, with years of experience since 1990, and we are here to help you with all your web designing and marketing efforts. Our experienced in-house expert and creative designers work throughout the creative process to ensure you get an effective web appearance. Let us help you create your new business website today!
Digital Pursuit offers interest-free financing on all web site and programming projects....Learn More